1) Your first step will be to create an EventSprout account HERE. Be sure to choose "yes" to "I want to create my own events".
2) In order to upgrade your account, we ask that you create an account with Stripe, our payment processor. This can be done by selecting the "upgrade account" button in the upper right hand corner of your new EventSprout account.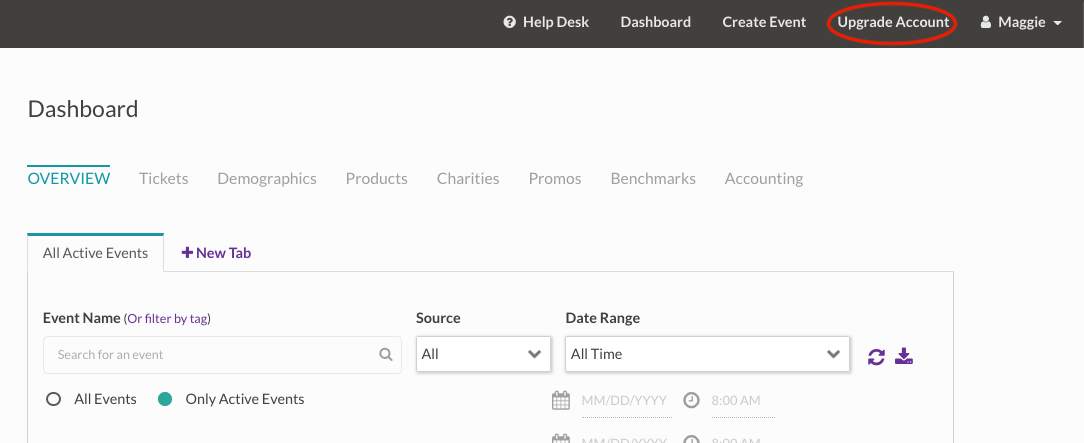 Stripe handles all of the actual payments from the customers, and distributes your deposits directly to you. Stripe will ask for a few pieces of information, so be ready to have the following ready:
1) Business name, address, type of business (LLC, non-profit, etc.) services offered.
2) Personal information, including the last four of your SSN. This is purely for identification purposes. Stripe is an incredibly secure website that takes all personal information very seriously.
3) Bank information (acct. #, routing #) so you're able to start receiving deposits right away.
Once your account is upgraded, please make sure you have your "payout settings" set up properly. Your payout settings determine how often Stripe will send you deposits from your ticket sales. Daily deposits do NOT always start and stop at the same time, so please make sure you are willing to receive deposits that rapidly. To edit your payout schedule, select "Settings" on the left hand side of your Stripe account and then select "Payments and Payouts." From there, you can edit the payout schedule.