Absolutely! Using the EventSprout Mobile iPad app you will be able to log in to your EventSprout account and sell tickets right at the entry. You will have full functionality for taking cash and manually entered credit card payments even if there is no internet connectivity. Data will sync with your EventSprout account for reporting after the event. Instructions for using the app are as follows:
1. Open the EventSprout Mobile application on a compatible iPad device. If you have rented or purchased an IDTECH Unipay Mobile Card Reader, have this device attached before launching the app.
2. Log in using your EventSprout credentials.
Upon logging in, you will be greeted with a list of your events. Select the event that this device will be selling for. At any point, you can switch events by pressing the Three Lines in the top left of the screen and then pressing Events.
4. On the main "Sell" screen, select how many tickets you are selling and then select "Cash" or "Credit".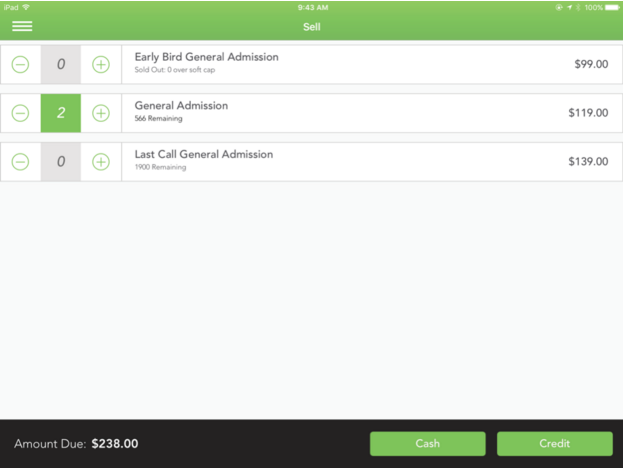 5. If Cash selected, enter in participant info (not required) and cash tendered, then submit the transaction.
6. If Credit selected, you can type in the purchaser's info and card details. If you have a card swiper attached, slowly swipe the card to automatically enter in all of the participant's information. The email field is not required. Submit the transaction.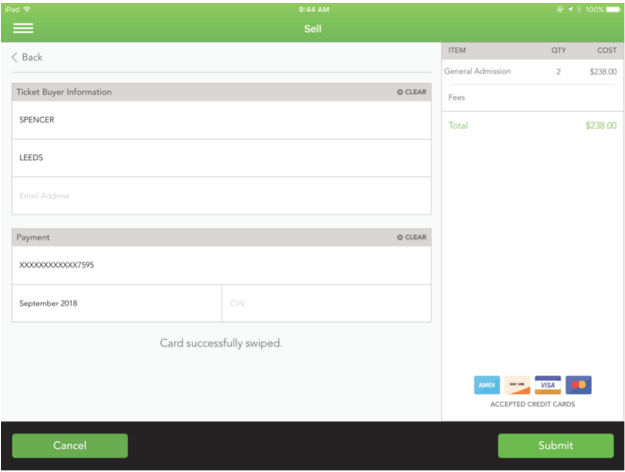 Additional Important Information
The swipers must be charged prior to being used. It is recommended to charge the devices prior to the event if you have used the swiper for pre-sale POS. Slide the guard off of the bottom of the device (away from the plug) and charge with a provided USB charger.
If the swiper is not detected in the EventSprout app, try the following:

Disconnect and reconnect the swiper
Turn the volume on the iPad to its maximum volume while the swiper is attached.
Press the "clear" button in the payment details section to reinitialize the swiper.