Viewing & editing individual attendee information in EventSprout is essential to understanding your customers and providing service after registration/purchase. To edit personal information of your event guests, follow the steps below:
1. Select "Attendees" on the left hand toolbar and click "Search":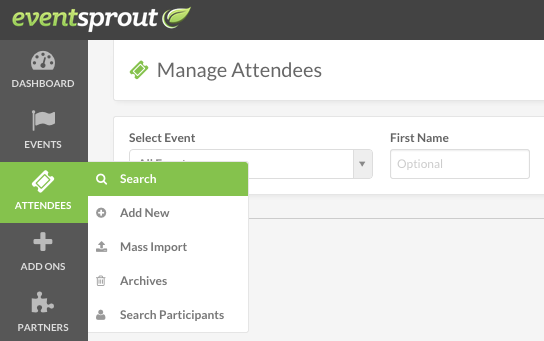 2. Enter first and & last name into the search bar, or use other identifiers such as email or transaction ID to narrow your search.
*Hint: try using just the first few letters of a first/last name. Note that if searching for "John Doe", "Jo Do" will pull up the attendee, but "Johnathan Doe" will not.
3. If you searched correctly, the guest/s should appear below the search bar.
4. Click on the person's name or the pencil icon to edit & view their profile
5. Click "Edit Participant" to change information.
6. Change the desired information and click "Update". Repeat as needed!